How to Fix a Ripped Canvas
by Gvido Grube
5 Minutes
2023-05-09

​

Want to know how to fix a ripped canvas with a very small budget? Learn how to repair a canvas tear with our handy guide!

Those who've experienced it will be able to confirm that there are few things more frustrating than accidentally tearing a hole in your canvas print.

Damaging a favorite painting or canvas print of a wedding photo might feel like a small catastrophe. But don't let frustration get the better of you – take a deep breath and stay calm. There are many effective techniques for how to fix a torn canvas out there, and most of them are easy enough to do yourself!
What you'll need:
Spare patch of canvas

Acid-free glue (or gel medium/acrylic matte medium)

Needle (or similar fine tool)

Glue brush

Gesso
Steps in Brief:
Prepare your canvas patch. You can buy unprinted canvas fabric in an art supply store or online

Stick patch to back of damaged canvas. For this you can use acid-free glue/gel medium/acrylic matte medium

Wait for a couple of minutes. Hold patch in place so it bonds with your canvas – but don't let it dry completely

Fix small defects. While fabric is still slightly damp, remove small canvas threads around edges of tear using a needle

Apply a binding agent. If necessary, coat edges of tear with gesso (and apply paint to hide gesso once it's dried)
Read on to learn about every step of the process in more detail!
How to Fix a Torn Canvas – Our Tried and Tested Method
Once the initial panic has subsided, just follow our simple instructions below and you should have no problems concealing the worst of the damage.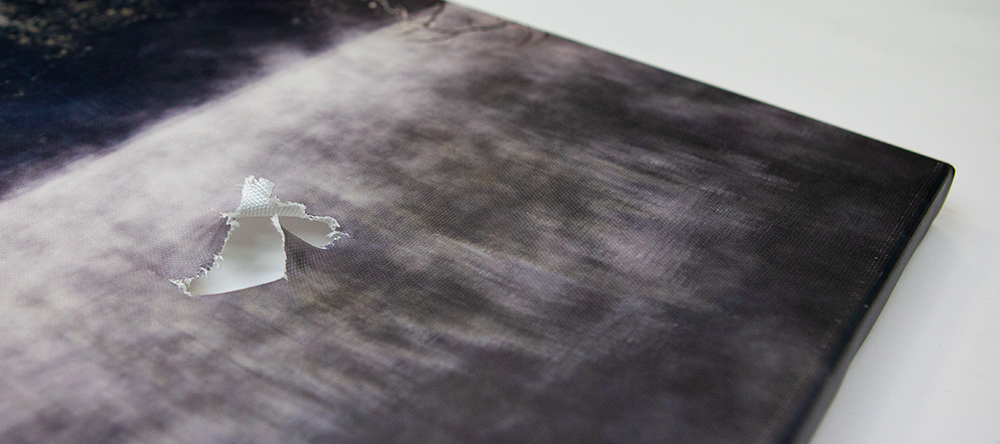 The basic technique is straightforward – you stick a patch of canvas material to the back of your canvas in the place where it's been ripped. Then with the damaged section of canvas glued in position against the new patch, you tidy up the torn fibers at the edge of the tear so that they're as hard to notice as possible.
Ready? Then it's time to take care of business MacGyver style!
Step 1: Stick Your Patch in Place
The first thing to do is to prepare your patch. You'll need a spare piece of canvas large enough to cover the full extent of the tear.
The canvas patch should be applied to the back of the torn area using acid-free glue. Why acid-free? The reason's simple: acid-free glue won't get discolored over time or attract impurities from the air, so it should remain as inconspicuous as when it's first applied.
Note: if your canvas is a painting rather than a photo print, you might want to use gel medium or acrylic matte medium instead of glue.
Once the patch is carefully positioned over the affected area, press it down firmly. You'll want to hold it in place long enough so that it's started to bond, but bear in mind that the next step should be done while the canvas material is still damp from the glue.
*(Before moving on to Step 2, turn the canvas around and wipe away any spare glue or gel that might have seeped through to the front.)
Step 2: Tidy Up the Threads Around the Tear
Well, your canvas should look much better already. But only the large-scale damage has been mended so far.
There's probably also be plenty of small-scale damage to the individual canvas fibers along the edges of the rip. If you can repair these damaged edges, you'll bring your canvas even closer to its former condition.
You need to work from the front of the canvas now. Take a needle or any similar fine tool (such as tweezers or a sewing pin) and unpick the threads along the edges of the tear.
Then flatten and interweave the unpicked canvas fibers so that the edges of the tear mesh together as neatly as possible.
As the glue from your patch dries, it will hold the interwoven fibers securely in position, sealing up the tear and thus repairing the damage to your picture.
Step 3: Fixing Your Ripped Canvas with Gesso
Once the glue is dry, it's time to take a step back and have a good look at your canvas. If you're satisfied with your work, congratulations. But you might decide the tear is still too noticeable – and if so, some additional touch-ups will be necessary.
One of the best substances to use here is gesso
A white paint mixture consisting of a binder mixed with gypsum/chalk, gesso is used on canvas as a base layer for paint and other substances. But it's also an effective binding agent, and makes a great substitute for glue because it's barely noticeable once it's dried.
Apply it to the front of your canvas and a chemical reaction will take place within the layer of gesso, binding together the edges of the tear even more closely.
But of course any gesso you apply will show up white – which means you'll then need to touch up the coated area yourself using paint. So unless you're super-confident in your artistic skills, we'd recommend applying gesso to the smallest area possible.
Try coating just the very edges of the tear. Then you'll just need to concentrate on finding the right colors of paint to touch up your picture, rather than having to worry about the fine detail.
While this probably won't give you that "good as new" appearance, the results should still be convincing enough. At first glance people shouldn't be able to tell there's been any damage at all.
What If I've Damaged My Canvas Really Badly?
What can you do if your canvas has suffered damage so bad that it seems irreversible – maybe an L-shaped tear right across your beautiful vacation print, or a nasty slash causing a tragic rift in that wedding picture?
Well, sadly you might be out of options here. There's only so much a DIY repair job can fix, and serious damage usually means you're left with one option – getting your image printed anew.
However, thanks to the great pricing offered by CanvasDiscount.com, buying a new print will come at a small cost when weighed against the stress you'll avoid
So you should always take a close look and evaluate the damage before discarding any ripped canvas print, but sometimes starting over is the best way – it won't cost you a fortune.
And canvas prints produced by CanvasDiscount.com are exceptionally robust and durable – so if it's treated with the minimum of care, this time your print should stay in great condition for a whole lifetime.
Popular Products
SEND US A MESSAGE
We want to cover as many topics as possible, and we know that there are still a lot of unanswered questions out there. Send in your Queries! We'll update the blog regularly with our in-depth responses.