What are MixBlox Acrylic Photo Cubes? Your Questions Answered
by Maria Johnson
5 Minutes
2021-01-13
Our MixBlox are arylic photo cubes that are made to be mixed! Read on and find out what makes these fun and original blocks so special!
Searching for a quirky way to display your favorite photos? Then you've come to the right place, because we have something special for you – brand-new MixBlox photo blocks. These free-standing decor items take up a minimum of space, and look great wherever you put them. With MixBlox, you won't need glue or nails to create an amazing photo display – just a horizontal surface and your imagination! Read on to find out more about this exciting new product.
In this article:
An introduction to MixBlox

What MixBlox are made of

Reasons to choose MixBlox

How to display your MixBlox collection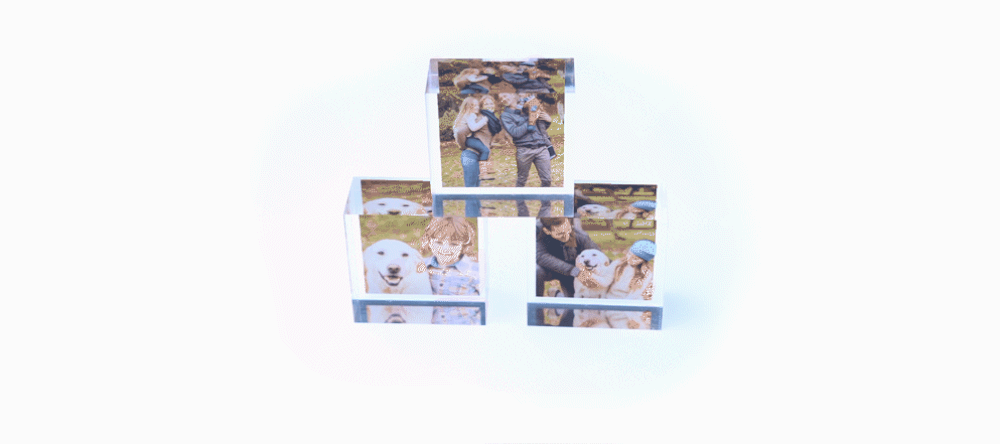 Introducing MixBlox
In a nutshell, MixBlox are dinky acrylic glass blocks, each with a print of your photo inside. They're modestly sized – just 2" x 2", and an inch deep – but don't be fooled, because these little blocks have a big personality! Photo blocks make an original alternative to photo wall art – ideal if you don't have the space to hang canvas or acrylic prints.
Where Great Design Meets Premium Materials
MixBlox are made from acrylic glass – at least 10 times as resistant as ordinary glass while weighing half as much. And the superb transparency of acrylic provides a flawless quality that's perfect for displaying photo prints.
Your photos are reproduced using a direct UV printing technique – giving you exceptional accuracy of line and color. The generous depth of the acrylic glass creates a remarkable visual effect – the edges of the blocks are transparent, so your photos seem to float among shimmering reflections. It's this ever-changing play of light and subtle gradients that turns MixBlox into such mesmerizing decor pieces.
So, Should You Order MixBlox?
We're convinced you should – because MixBlox take interior decoration to a whole new level. They look great whether in clusters or just on their own (although once you've got your first block, we're sure you'll want to grow your collection!), and they're wonderfully durable. Thanks to the resilience of acrylic glass, MixBlox are superbly resistant to wear and tear and will survive occasional knocks and falls.
What's more, MixBlox are free-standing items that don't need to be secured in place – a perfect decor choice if your landlord won't allow drilling, or you simply don't want to bother with nails and screws.
Our Tips for Displaying MixBlox
When it comes to display, MixBlox allow for endless creativity – you can mix and rearrange the blocks any way you like, as often as you like. Here are just a few suggestions for displaying your MixBlox collection:
in a row with equal spaces between the blocks

in several symmetrical groups

in two asymmetrical groups

in a pyramid

in an L shape

stacked up in a column
The best thing about MixBlox is their versatility – you can grow your collection over the years, always finding new arrangements of your most cherished photos. With MixBlox the possibilities are endless – try them out now and you'll be smitten forever!
Popular Products
SEND US A MESSAGE
We want to cover as many topics as possible, and we know that there are still a lot of unanswered questions out there. Send in your Queries! We'll update the blog regularly with our in-depth responses.