How to Hang Pictures Without Nails
by Maria Johnson
5 Minutes
2023-02-16

​

Lots of you have asked us how to hang pictures without nails – so we've prepared this comprehensive guide to help you out!

There are multiple options if you want to hang pictures without nails – including some solutions that will work even with heavier items. So if you want to leave your walls unblemished, check out our list of the best nail-free hanging options and learn how to display wall art while keeping your walls intact.

As well as covering more traditional techniques for hanging canvas prints and other types of wall décor, we'll introduce you to a brand-new hanging solution – Magnofix®. See the dedicated section below to find out more about this ingenious new piece of kit!
Hanging Pictures Without Nails – Reasons for Going Nail-Free
Before you make any holes in that wall, it's worth considering if a nail-free alternative might be the best option for you.
Here are the most common reasons why you might want to avoid breaking out the tools:
You're worried about causing accidental damage. Not every wall can handle drilling/hammering – some walls are simply too thin, while some are made from fragile materials.

You don't feel confident with DIY tasks.If you become a bag of nerves when you've got a hammer in your hand, and you don't have a more experienced friend or family member who can help you out, it's better to play it safe here.

Your lease forbids making holes in the wall. If your landlord has made it clear that any holes will be considered damage – to be paid for out of your security deposit – then the advantages of nail-free hanging options are obvious enough!
Two Things to Consider Before You Go Nail-Free
Before you put the screws and hammer aside and choose a nail-free picture hanging method, it's important to consider two factors:
The weight of the picture you're mounting on the wall.

The qualities of the wall itself. What material is it made from – concrete, drywall, brick? And does it have a smooth or textured surface?
With the first factor, the rule is simple – the more lightweight the picture, the easier it will be to hang without nails.
For wall decor features above a certain weight, nail-free hanging solutions just won't be suitable. So we strongly recommend using traditional hanging methods for extra-large pictures, or images with heavy frames.
The second factor is a bit more complicated. The fact is, most nail-free hanging methods will work better on certain surfaces than on others. For example, double-sided adhesive tape can only be used on smooth surfaces, so if your walls are uneven for whatever reason, you'll need another solution.
A Simple Nail-Free Solution: Tape for Hanging Pictures
Looking for an easy way to hang a picture without nails? With double-sided tape it takes seconds to stick your image on the wall – no DIY skills or professional tools required.
How to Hang a Picture Using Double-Sided Tape
Everyone's used tape before, of course – but it's best to have a system in place if you're using it to hang pictures. Follow these steps if you want to mount wall art with tape like a pro:
Prepare Surface. Clean the wall, preferably with an alcohol-based cleaner

Adjust Picture. Hold your picture against the wall and adjust until it's straight

Mark Position. Using a pencil, mark the position of your picture on the wall

Apply Tape. Lay your picture face down and apply double-sided tape to the back of it (smaller items may only need some tape at the corners, while larger pictures will need it around the entire edge)

Hang Picture. Return your picture to the marked position on the wall and press firmly
Is Mounting Tape Removable?
Mounting tape is designed to be removable, so you should be able to peel it off any reasonably firm surface with no trouble.
Note however that sticky tape can sometimes pull away fragments of paint or wallpaper when you peel it off. So you should think about your tolerance for minor wall blemishes before using tape to hang your pictures.
Tape Keeps Falling Off the Wall? Here's What You Need to Do
If your double-sided tape won't stick fast to the wall, there can be two reasons for this. It might be that the tape you're using just isn't suitable for the wall surface in question – uneven walls, for example, won't make enough contact with the adhesive tape surface to create a firm bond.
Often, though, it's just because the wall's a bit grubby, in which case cleaning the surface should be enough to make the tape stick. An alcohol-based cleaner will remove that wall grime without leaving any residue.
Two Alternative Solutions: Hanging Strips and Putty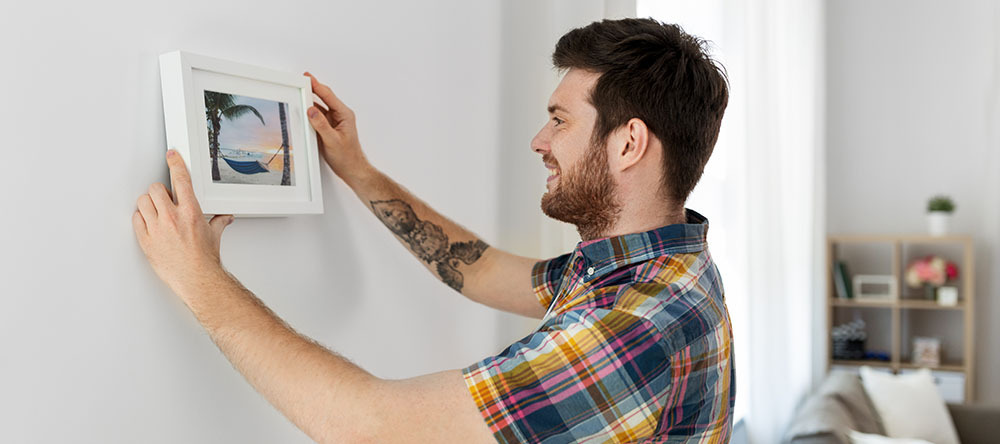 So if drilling holes isn't an option and tape won't work for your wall and/or your picture, what then? Try these two simple and effective alternatives – hanging strips and adhesive putty.
Hanging Strips – Tape, Upgraded
Hanging strips are a relatively recent addition to the picture hanging supplies market, so you may not have heard of them yet. They're a good alternative to tape because they use a combination of adhesive and Velcro-like technology, which means they hold pictures firmly to the wall but they're less likely to cause damage when they're removed.
The operating principle of hanging strips is more or less the same regardless of the brand you use:
Take a pair of strips and press together their locking sides. You'll then have one locked pair of strips with two adhesive outer layers.

Remove the protective film from one of the adhesive outer layers and stick the pair of strips onto the back of your picture.

Repeat until you have enough pairs of strips to support your picture's weight.

Remove the other protective film from each pair of strips.

Position your picture on the wall and press firmly for at least 30 seconds.
Adhesive Putty – the Perfect Solution for Imperfect Walls
Putty is a simple adhesive solution for hanging pictures, available in any stationery shop.
Since putty is so pliable, it can be used on virtually any wall. It will fill any tiny wall cavities or other surface defects, helping it create a stronger bond between the wall and your picture. But note that putty has limited adhesive power, so it should only be used for hanging the lightest pictures.
Using adhesive putty for hanging pictures is as easy as pie – just stick some lumps of the material to the back of your picture around the edge, then press the picture firmly against the wall. Don't be sparing with the putty! The more lumps you apply, the less weight each one has to carry.
Magnofix® – for Hassle-Free Picture Hanging
​
In the intro we promised to introduce you to an exciting new solution for hanging pictures without nails – Magnofix®. So what is it and why is it one of the best options for nail-free picture hanging? Let us explain.
Like hanging strips, Magnofix® combines sticking power with another adhesive technology – magnetic technology in this case. With a Magnofix® hanging kit, you can hang pictures quickly and securely, and once they're on the wall you can swap them around in the blink of an eye!
The Magnofix® system is composed of two magnetized strips with adhesive backs. To use Magnofix®, you stick one of the strips to the back of your picture and the other one to the wall. Both strips will then have their magnetic sides facing outward. So you can just bring the two strips together and your picture will be held against the wall by magnetic pull – it's as simple as that!
Magnofix® – Now Available on CanvasDiscount.com
Want to give Magnofix® a go? You can get your hands on this ingenious hanging system by buying our MIXPIX® photo tiles – featherlight 8" x 8" prints of your photos. Each tile comes with a free Magnofix® system worth $2.90 – so the more you order, the more you save on hanging expenses!
A Fresh Look Every Season with Magnofix®
With Magnofix® you can easily swap your tiles around to give your room a new look. Simply pull the tiles off the wall (one Magnofix® strip will remain on the wall, the other will still be attached to the tile) and reattach them in different arrangements. The magnetic effect doesn't wear out with time so you can be sure your tiles will hang securely even after multiple swaps!
Nail-Free Picture Hanging Alternatives – the Last Word
Each home deserves a wall decor refurb from time to time. And even if you want to steer clear of nails and drills, there are plenty of nail-free alternatives that will give you the freedom to make a fresh statement whenever inspiration strikes.
Once you've chosen the damage-free hanging option that best suits your needs, why not browse our wall art catalog and order some brand-new prints? We offer a range of products that can be hung securely without using a single nail!
Popular Products
SEND US A MESSAGE
We want to cover as many topics as possible, and we know that there are still a lot of unanswered questions out there. Send in your Queries! We'll update the blog regularly with our in-depth responses.