What is a Metal Print? The Complete 2023 Guide
by Gvido Grube
3 Minutes
2023-01-03
What is a metal print and does it really add to the look of your photo? The short answer – yes, it does. Read on to find out more!
A metal print is a highly sophisticated type of wall decor that combines aluminum sheets with a black polyethylene core. Starting at $16 for an 8"x8" piece, it's a premium product known for its elegance, sturdiness, and fantastic print quality.
Here's what you're getting when you invest in photo metal prints:
Superb durability
UV-resistant inks
Slim and elegant design
What are Metal Prints Made of?
The name might suggest an interior design piece that's at the chunkier and weightier end of the spectrum. But in fact a metal print is made from a three-part composite panel, consisting of two slimline aluminum sheets either side of a lightweight black plastic core.
This ingenious combination is the secret behind the defining quality of a metal print – although it's sturdy, it's still remarkably light. This means that it's all but effortless to move around. And the benefits of owning metal prints don't end here.
Because metal prints aren't just convenient, they're superbly elegant too.
The pair of refined aluminum sheets with their silvery edges, combined with an elegant matte finish, give your print the unmistakable look of a premium decor piece.
Thanks to a cleverly positioned hanging system, a metal print gives the impression that it's floating unsupported against the wall. Needless to say, this only rounds off the sophisticated effect.
If you want the perfect decor piece for a modern office space or minimalist apartment, this is it.
All-Around Protection from UV and Humidity
The elegant beauty of your wall art will be maintained for many years to come, because the inks used in our metal prints shield them from the effects of UV radiation.
In other words, your image won't suffer the fading effects of sunlight, so those vibrant colors will be just as striking even decades down the line.
The print on metal is moisture resitant too. In fact, it's a rare example of a wall decor piece that's suitable for display in humid environments – the perfect choice if you want to decorate your bathroom or kitchen.
What About the Print Itself?
With that said, what's the point of paying for top-notch performance if the image quality itself is lackluster? Well, it's safe to say you have no reason to worry in this department.
As well as being renowned for its incredible endurance, the print on metal boasts a print quality to rival any format on the market.
What is it that makes metal prints so striking? The secret lies in our sophisticated printing technology. You get a super-accurate pixel-by-pixel reproduction of the original hues and textures.
The first thing you'll notice is the particularly high resolution. Every detail is crystal-clear, meaning that your photo, be it an epic landscape or an arty black-and-white portrait, retains every ounce of its power.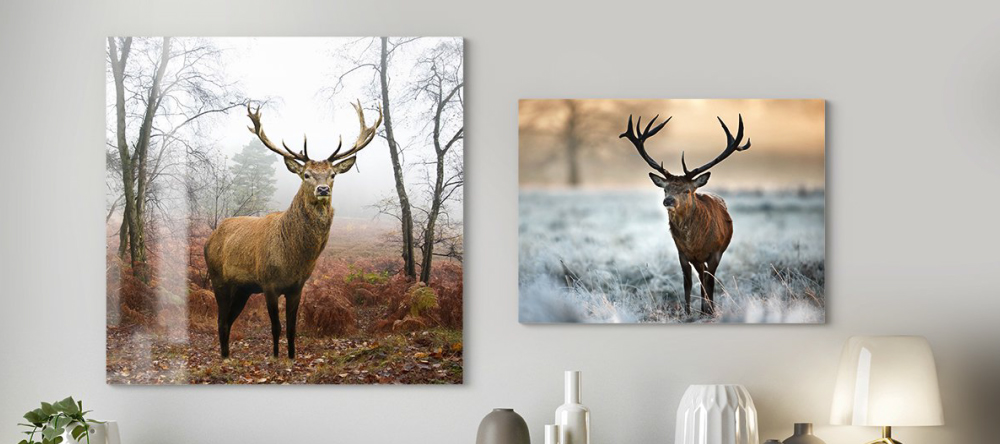 Of all the foundations available for your photo print, the aluminum composite panel is the connoisseur's choice. They might cost that little bit extra, but metal prints are a tried-and-tested way to bring out the best in your photos and give your living space that effortless stamp of luxury. It's an investment you won't regret.
Popular Products
SEND US A MESSAGE
We want to cover as many topics as possible, and we know that there are still a lot of unanswered questions out there. Send in your Queries! We'll update the blog regularly with our in-depth responses.