What Is an Acrylic Print: Your Questions Answered
by Maria Johnson
5 Minutes
2022-04-29
What is an acrylic print? Explore our comprehensive guide to this amazing print format and find out!
Looking for a photo print that's really got the wow factor? The acrylic print is one of our premium photo products, a real showstopper that will take your wall art to a whole new level.
But what is an acrylic print exactly? We've put together a round-up of everything you need to know about this amazing wall art solution!
What is an Acrylic Print?
An acrylic print is a photo reproduction displayed behind a slim sheet of acrylic glass. The acrylic pane enhances the appearance of your image, giving it a mesmerizing depth effect, while also protecting your print from sunlight and contact damage.
What's the Difference Between Metal and Acrylic Prints?
Acrylic prints are quite close in appearance to prints on metal – both have a glossy finish and a bold contemporary look. But they have distinct differences too.
The two prints are constructed differently, and while they can look quite similar when viewed from the front, the contrasts are much more apparent when they're seen from an angle.
The acrylic prints sold here at CanvasDiscount.com, for example, come with transparent edges – the polished acrylic glass leaves your image visible from every viewpoint. The edges of our metal prints, by contrast, are black with silvery borders (the metal print sees your photo reproduced on a metal composite panel: a jet-black core between two thin aluminum sheets).
On the left, an acrylic print. And on the right, a metal print.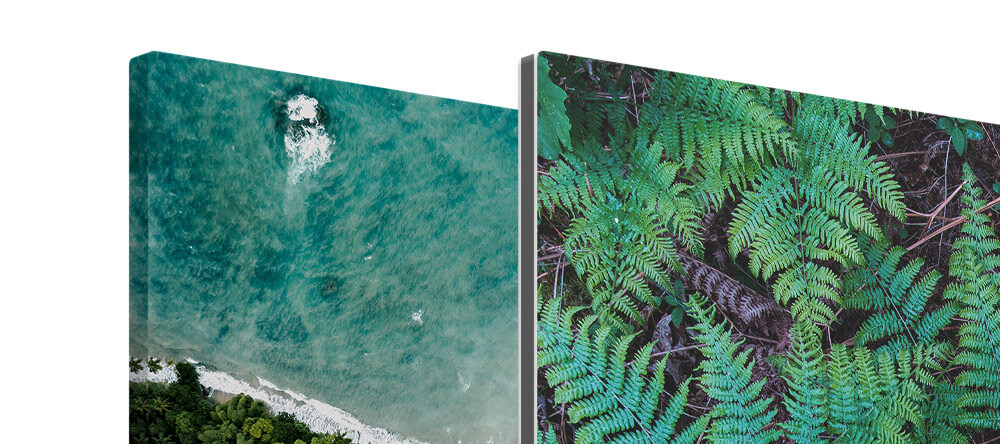 Another important difference between metal and acrylic prints is the visual effect each one achieves. The pane of glass in front of the acrylic print might be slim, but it produces shimmering reflections and an enticing 3D-style depth effect. That means acrylic prints bring a touch more glamor to the party – in contrast to the more restrained, classic appeal of metal prints.
The Main Benefits of Acrylic Prints
Acrylic prints represent the very best of elegantly simple design – and they match this with stunningly vibrant photo reproduction. We've put together a quick list of the main benefits of an acrylic print from CanvasDiscount.com:
Incredible versatility. The borderless, frameless print will fit in easily with just about any decor scheme, and integrate well with other wall art features.

Weight kept to a minimum. Acrylic glass is a lightweight material, and the glass panels we use for our prints are very slim – giving you a low overall weight that makes installation safe and easy.

Striking depth effect. With its gloss finish and transparent edges, the flawless glass panel produces shimmering reflections, making it appear deeper than it is.

3D appearance. The hand-polished, borderless glass creates the illusion of a three-dimensional image.

Durability. Acrylic prints are UV and moisture resistant – perfect for displaying in sunny rooms or even working kitchens.
Do Acrylic Prints Have Any Drawbacks?
As huge fans of acrylic prints, we're convinced that the advantages of this print format far outweigh any shortcomings they could be said to have.
Nevertheless, acrylic prints do come with a high-gloss finish. This means that the crystal-clear glass reflects much of the light that it catches, which may cause glare on particularly sunny days.
Of course, for many of our customers, the glimmering reflective surface is part of the attraction. And if you are worried about glare, this is very easily avoided – all you need to do is position your acrylic print away from direct sunlight.
How to Take Care of Your Prints
Acrylic prints demand minimal care – you should only need to dust them from time to time with a feather duster or gentle cloth. But if you get finger smudges or other marks on the surface of the glass, you might want to give your print a proper wipe, in which case we recommend an alcohol-based cleaning product. Just apply a small quantity of the product to a lint-free cloth, carefully rub the affected area, then allow the surface to dry.
Want to see a demonstration? Check out this quick video tutorial for how to clean acrylic prints:
How to Hang Acrylic Prints
To hang your acrylic print on the wall, we strongly recommend using one of our own hanger sets, both of which are designed especially for the CanvasDiscount.com premium wall art range. The two options are the hanger plate and the aluminum backframe.
As soon as you upload your photo to our site, you'll be transferred to the "Choose Format" page, where you'll see the option to add a hanger set to your order (it costs just a few dollars). For smaller prints you'll be offered the hanger plate, for larger ones the aluminum backframe.
Both sets are cleverly designed so they remain hidden away behind our photo prints. This creates the illusion that your print is floating effortlessly against the wall!
How to Use the Hanger Plate:
Step 1: Choose the area to the back of your print where you'll attach the hanger plate. Rub this area with fine sandpaper, then clean it with a cloth that's been slightly dampened with an alcohol-based cleaner. Leave to dry

Step 2: Without removing the anti-adhesive paper, lay the hanger plate on the back of your print and then use a pencil to mark out its outline.

Step 3: Remove the anti-adhesive paper from the hanger plate. Press it into position.

Step 4: Leave your print face down on a flat surface for 24 hours to let the adhesive harden.

Step 5: Attach the rubber bumpers to the back of your print (at the bottom corners).

Step 6: Attach a picture hook (or just a couple of screws) to the wall, then rest the ridge at the back of your hanger plate on the hook/screws.
​
How to Use the Aluminum Backframe:
Step 1: Select the aluminum backframe when you order and it will arrive ready-fitted to your print!

Step 2: EITHER: Insert screws into the wall on a level plane. (The screws can't be wider apart than the open central part of the aluminum backframe's top bar.) OR: Affix a French cleat to the wall using screws. (The French cleat can't be longer than the open central part of the aluminum backframe's top bar.)

Step 3: Rest the edge of the aluminum backframe's top bar on the heads of the screws/on the French cleat.
Will Acrylic Prints Suit My Home Decor?
We get it – acrylic prints are somewhat of a niche product, not something you'll see in every household. So it's only natural to question whether they'll integrate well with your home's design scheme.
But you don't need to worry. With their slim lines and borderless design, acrylic prints are wonderfully unobtrusive. So just pick an image that complements the color palette and style of your room, and your acrylic print is sure to blend in gracefully.
Are you ready to create your own acrylic print? Head to the product page now, browse your device for the image you want printed, and turn your precious photo into a sophisticated wall art classic that will bring some premium flair to your walls!
Popular Products
SEND US A MESSAGE
We want to cover as many topics as possible, and we know that there are still a lot of unanswered questions out there. Send in your Queries! We'll update the blog regularly with our in-depth responses.