Christmas 2022: 4 Reasons to Choose Christmas Wall Art
by Maria Johnson.
5 Minutes
2022-10-19
Christmas wall art makes an original and very affordable present. Read on to learn about the benefits of these unique custom gifts!
It's always wise to get your Christmas shopping done sooner rather than later – and the holiday season's already just around the corner. But every year millions of us struggle with the same dilemma: how to choose truly special gifts without spending a fortune. But there's good news! Canvas prints make Christmas wall art with all the qualities of a great present: they're custom-made, they look fantastic, and – last but not least – they won't cost the earth.
There's a whole host of reasons to choose canvas prints for your Christmas gifts! Below we've listed just four of them…
1) The Personal Touch Means More
The concept of canvas prints is simple – you upload a digital photo of your choice and we'll reproduce the image by printing it on real canvas material. The canvas is then wrapped on a wooden stretcher frame just like the ones you see in real art galleries.
These are unique custom products made using your own precious photo memories – so the personal touch comes as standard! Each customized canvas print is a genuine one-off, which will make for truly special Christmas wall art. Because you select your own image, you're free to choose pictures that you know will bring joy to your loved ones – whether photos of shared experiences or just beautiful shots of nature.
2) Customization Puts You in Control
The best Christmas presents are ones that don't feel mass-produced. And as well as uploading your own photos, when you order canvas prints you can also make your own product design choices. A good manufacturer should provide several customization options, such as:
Range of edge design choices

Various framing possibilities

Option to add text
When you upload your photo here at CanvasDiscount.com, you'll be shown a preview screen which shows you how the finished article will look. We recommend trying out a range of frame colors/materials to find which one suits the image best. You can also experiment with adding text to your print for a super personal gesture.(A tip: text works best on a background of solid color, and the best background/text proportion is around 80/20.)
3) Ordering Online is Quick and Simple
If you've never bought our canvas prints and you're worried it will be too complicated, let us put your mind at ease. We've made the whole ordering process as user-friendly as possible. It's a simple 3-step process that shouldn't take more than 5 minutes of your time:
Upload your photo

Choose format, edge design and frame

Fill in the payment and delivery details
Once you've completed your order, it takes a mere 24 hours for us to process, manufacture, and dispatch your prints. So if you buy now you're sure to get your Christmas wall art in time for the holidays. Which is one less thing to worry about in the bustling seasonal period!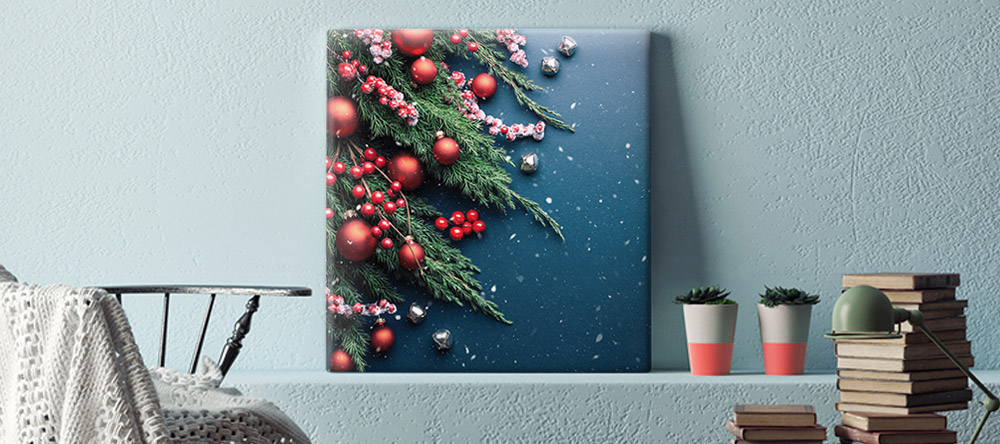 ​
4) Deluxe Quality Without the Cost
Christmas budgeting can be tricky, especially if you've got lots of gifts to buy. Strict economizing doesn't fit the holiday spirit – but squandering money can spoil the seasonal mood too…if it leaves you wondering how you're going to make ends meet in January! If only you could find Christmas gifts that give you upmarket quality without the price tag to match…
Well, we think Christmas wall art from CanvasDiscount.com fits the bill perfectly. Our canvas prints start at just $5 for an 8" x 8" canvas (with real wood stretcher frame included). That's much cheaper than almost any custom wall art you'll find elsewhere.
Nevertheless, we never compromise when it comes to quality – and you'll be convinced of that as soon as your wall art arrives. Our canvas printing technology achieves superbly vivid colors, all in ultra-sharp resolution. And the fine-grained, even texture of the canvas surface adds that final touch of gallery authenticity – this is digital printing raised to an art form.
Popular Products
SEND US A MESSAGE
We want to cover as many topics as possible, and we know that there are still a lot of unanswered questions out there. Send in your Queries! We'll update the blog regularly with our in-depth responses.